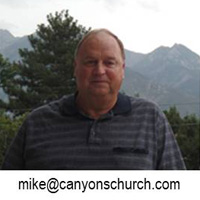 Mike Gray
Senior Pastor
Mike Gray has been the Senior Pastor of Canyons Church (formerly Southeast) since February, 1984. Mike is married to Dixie and they have four grown children and eleven grandchildren. One verse from the Bible express Mike's ministry:
-Philippians 3:12 tells us that Paul pressed on to lay hold of all that God had laid hold of him for. When God puts His hands on us, we are wise to yield to and pursue His will for us.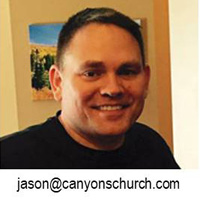 Jason DeFoor
Associate Pastor
Jason Has served as Associate Pastor of Canyons Church since June 1, 2018. He and his wife, Valerie, have four children: Anna, Josiah, Rebecca and Lydia.
Prior to Canyons Church, Jason served as the Associate Pastor of North Conway Baptist Church in Conway, SC. He has also pastored the First Baptist Church of West Valley City, UT and Poplar Springs Baptist Church of Lavonia, GA.
Jason graduated from Southeastern Seminary in 2005 with an M.Div,. while also serving as Missions Pastor of Bay Leaf Baptist Church in Raleigh, NC. Jason is passionate about preaching the Word and seeing lives transformed by the gospel of Jesus Christ.
Jason loves to hike, sports, college football and spending time with his family.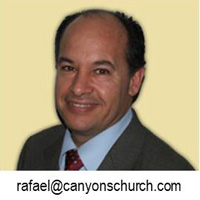 Rafael Gutierrez
Pastor de la Iglesia Hispana
es originario de Guadalajara, Jalisco, México. Estudió teología en su ciudad natal y en Texas. Está casado con Sonia y tienen tres hijos.
Es maestro en el Distrito Escolar de Granito y también de la Escuela Teológica de Utah.
Rafael ama la palabra de Dios y quiere compartir Sus buenas nuevas.
Rafeal Gutierrez is the pastor of the Hispanic Mission church, Iglesia Bautista Pan de Vida. Sunday service is at 11:00 am.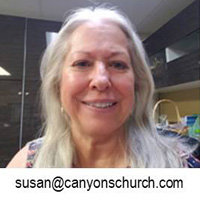 Susan Wilson
Office Manager
She is married to Rich. She has three grown children, four grown step children, four grandchildren, seven step grandchildren and two great grandsons. She enjoys spending time with family, reading, movies and traveling.
She shares a passion for the Lord with her husband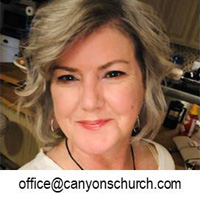 Julie Peters
Administrative Assistant
Julie has served as Administrative Assistant since August 15, 2010. She is married to Cordell (also known as Cowboy) and they have eight grown children and four grandchildren which includes twin boys.
Julie and Cordell live in Heber City. They have chickens, a dog and a cat. She enjoys remodeling with her husband, decorating, traveling, reading and adores being a grandma!
She is passionate about the Lord and has seen His amazing power at work in her life.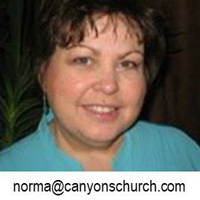 Norma Fox
Children's Ministry
Norma is our Children's Director and has served in that position since August 2017. She has a strong love for Canyons Kids. She loves to see the little ones pray and worship God with such a true innocence in their belief. She leads them in knowing God intimately, to love Him passionately and to serve Him selflessly.
Norma is married to Steve and enjoys spending time with her family. They have three children and seven grandchildren. They enjoy camping and hanging out. Norma and her daughter love to do crafty things, refinishing and re-purposing furniture, making fun decor with wood and card making.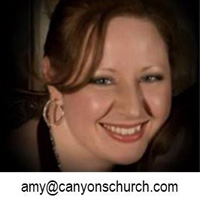 Amy Werling
Children's Coordinator
Amy has served Canyons as Children's Coordinator since March 15, 2018. She is married to Matthew and they have three girls and three boys.
Amy works hand in hand with Norma Fox to lead children to faith in Jesus Christ and to grow in their Christian faith.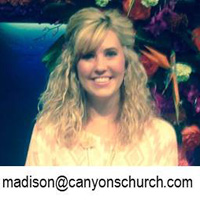 Madison Mueller
Music Ministry
Madison is our Music Coordinator and has served in that position since July 2017. Madison is married to Sean and they have a son, Nehemiah and a baby girl, Emmeline.
Madison grew up attending Canyons Church. She has a strong love for God, music and worship.
MINISTRY VOLUNTEERS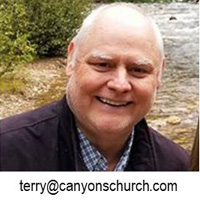 Terry Thurman
Christian Education Ministry
Terry has led our Adult Education Ministry since January 2017, which includes our Adult Life Groups teachers.
He is married to Debbie and they have five children and fourteen grandchildren. He enjoys camping with his family and friends, traveling and spending time with the grandkids.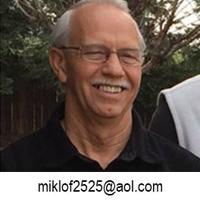 Mike Loflin
Deaf Ministry
Mike signs for our Deaf congregation during our 11 AM Worship Service and he also leads a Bible Study for the deaf during our Life Groups at 9:45 AM.
Mike is married to Gayle, they have four children and nine grandchildren. He's retired, enjoys signing and building.